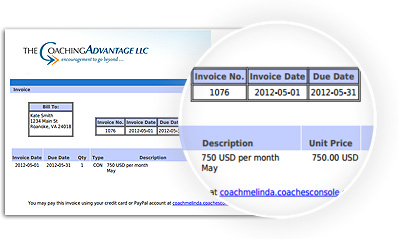 Create Invoices
Generate and send professional, branded invoices based on client agreements. Discounts, taxes and miscellaneous items allow you to create the exact invoice for your client's online billing convenience.
---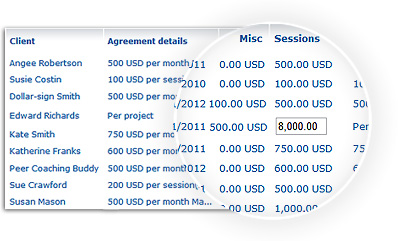 Multiple Invoices
No longer a need to create a separate invoice for each client or group. In one action, create all your monthly invoices for all your clients, groups, products and services in one system.
---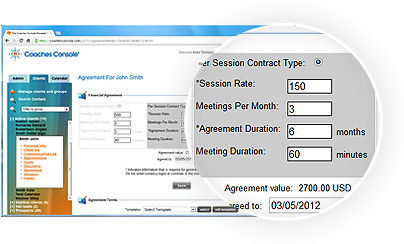 Client Agreements
Set client agreements per project, per appointment or per month that is directly connected to your on-line billing.
---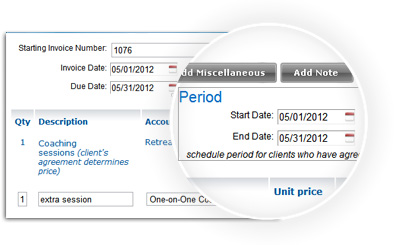 Miscellaneous Items
Add miscellaneous items based on specific client needs; add additional sessions or incorporate additional products from within the same invoice.
---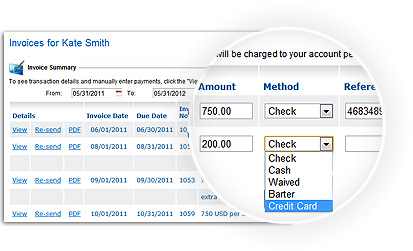 Payments & Receipts
Process payments (credit card, PayPal, cash, check, barter or waive) and send email receipts to your clients. Clients can also log in to your secure, Private Client website and process their own payment.
---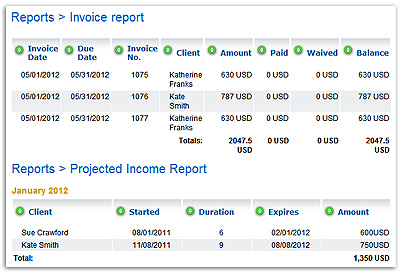 Reports
Track open and paid invoices as well as projected income based on client agreements. Organize your revenue based on "account" type to track the effectiveness and profitability of each type of service you offer (individual sessions, group coaching, teleclasses, events, etc.)
---
Money Matters

Quickbooks
Export your invoice and payment history into QuickBooks to compile all of your financial information in one accounting software.
International currencies
Whether you receive payments in USD, Euros or another currency, your Coaches Console system supports international currencies. Plus if your clients operate in an different currency, your system will allow you to receive payments from multiple currencies as well.
---