Melinda Cohan, of The Coaches Console, explores the tough questions coaches face on a regular basis. With a new guest host each episode, Melinda provides tactical advice and strategies to address issues like "How do I deal with price resistance?" and "When is the right time to fire a client?" It's like Oprah's couch, where conversations cut straight to the heart of the topic… but it's only for coaches.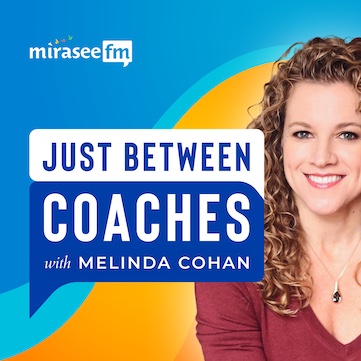 Melinda is a Too Notch Coach!
"So glad I found this podcast. Melinda really helps to bring out the lessons of each coach. One of my biz go-tos."
– LittItUp via Apple Podcasts · United States of America · 08/31/23
Great to have a show that really examines the subjective experiences of coaches
"Everybody wants to seem like a great coach and walk the talk, which can foster a kind of toxic positivity. So it's refreshing to listen to a podcast that takes on issues often not discussed in such depth, such as the very human failure of a coach to filter their own beliefs and succumb to judgment during some sessions. I also love how the main points of the conversation are summarized at the end."
– Hardestworkindame via Apple Podcasts · United States of America · 03/25/23
Valuable rescource for coaches!!
"If you as a (newer) coach have a question you wonder how other coaches deal with, or you are stuck in how to develop your coaching business – look no further. This show with wonderful Melinda Cohan at the helm will explore all things coaching. She is fun, joyful and very skilled and knowledgable. She invites interesting and experienced coaches to dive into a topic. It's great go-to show for insights and encouragement."
– I❤️infinit via Apple Podcasts · Sweden · 01/04/23
Excellent!
"I so resonated with this podcast episode! I signed up for coaching "certification" with a well-known and experienced coach, but struggled because he believes we're either coaches or consultants, never both when it is best for the client's uncovered needs. This podcast gave me the freedom to be most effective for my clients and to utilize my own knowledge and gifts to help them best. Freeing!"
– Ocala Jo via Apple Podcasts · United States of America · 04/09/22
Love this podcast!
"It's so rare to have a place where successful coaches can share their best insights with each other. Honoured to have been interviewed and share ideas on "how rich coaches think". Thanks for creating this awesome resource Melinda!"
– Mamoonio via Apple Podcasts · Great Britain · 07/31/23
Loved the Transformation not Time Episode
"I've been coaching for a couple of years and I got a ton of value and insight from this episode. Looking into changing the length of my sessions so my clients get the quickest transformation. Thank you!"
– Slhughson via Apple Podcasts · United States of America · 02/24/23
This is a show you must listen to
"I've been podcasting for seven years and have never been on or hosted a show that was even close to as good as this one is. Melinda is a great host, and her team puts together shows that are just a pleasure to listen to. Do yourself a favor and subscribe and listen to this show. You'll be glad you did."
– Joshco0752 via Apple Podcasts · United States of America · 05/25/22
About burning problems...
"They talk about really burning problems: honestly, cleverly."
– Balázs Borka via Apple Podcasts · Hungary · 08/11/21
Enriching conversations
"Great discussions on topics that often come up for coaches. Melinda does a fantastic job of inviting these seasoned coaches to share their insights! I get a lot out of each episode and leave wanting even more."
– DIY3 via Apple Podcasts · United States of America · 08/11/21