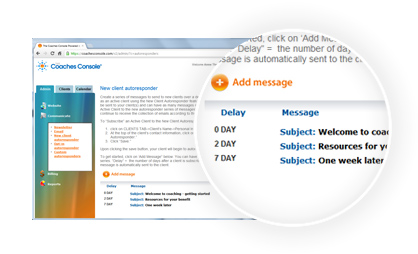 Autoresponders
Create and schedule a series of automated messages for marketing and delivery of client content. Drip marketing messages to prospects using the "Opt-In Autoresponder Series." Engage clients using the "New Client Autoresponder Series." And support your tele-classes and groups using a "Custom Autoresponder Series."
---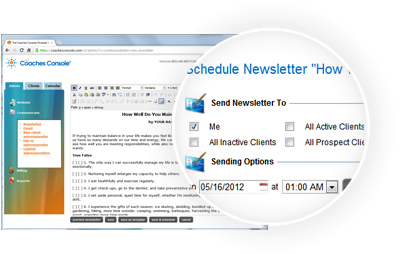 Newsletters
Deliver newsletters to your prospects, clients or groups instantly or automate them for future send dates. Choose one of the free articles pre-uploaded in your Console system to insert into your newsletter or create your own.
---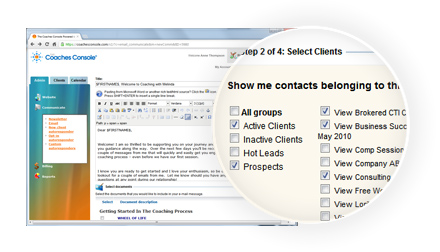 Email
Send an email broadcast to an individual contact or specified group(s). Emails can be sent immediately or scheduled for a future send date.
---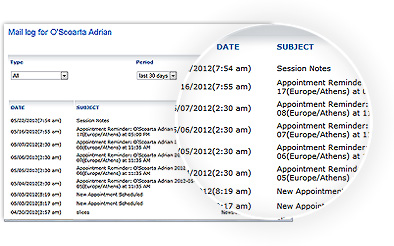 Communication log
Easily organize and track communications sent to each client. All communications (email, newsletters, notifications, autoresponders, invoices, etc.) are archived and can be organized by date, subject and client.
---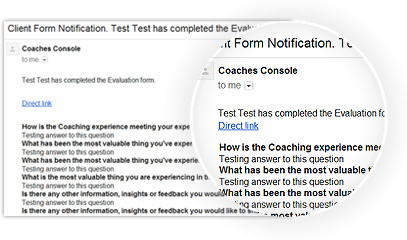 Notifications
Email notifications sent to the client, prompts them to complete forms, pay invoices or schedule their next session. Email notifications sent to you as the coach, allow you to immediately receive and review updated forms completed by the client.
---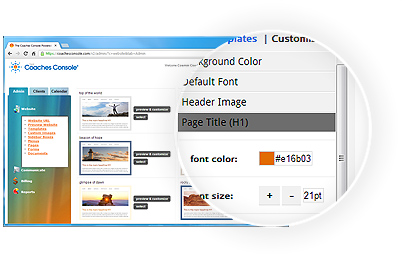 Branding
All communications (emails, appointment reminders, invoices, receipts, newsletters and autoresponders) are branded with your logo, colors and business name.
All communications can be segmented by: active clients, inactive clients, groups, hot leads and prospects so you clearly communicate the most effective messages to the right people.
---