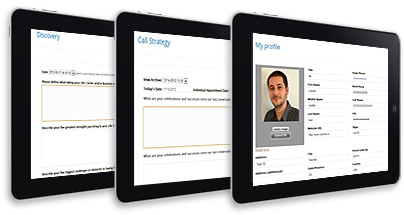 Standard Predefined Forms
Pre-Uploaded Welcome Packet includes: Goals, Discovery, Call Strategy and Evaluation Forms; Client Agreement; Wheel of Life and Credit Card Authorization Form. Plus your system is equipped with a Post Session Recap form, a Testimonials form and a Teleclass Etiquette Document. Use these forms as they are or customize them to make them your own.
---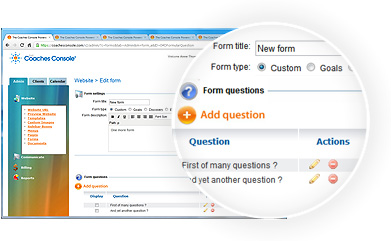 Unlimited Custom Forms
While your Console system is equipped with pre-uploaded forms, you can upload an unlimited number of forms. Each form can have a customized description, unlimited number of questions and various answer types (dropdown lists, radio buttons or simple open ended text).
---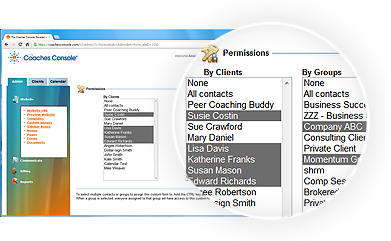 Permission-Based Access
Assign forms and documents to specific clients and/or groups.
---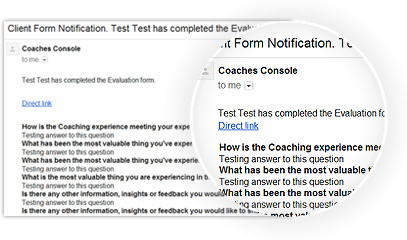 Notifications
Receive email notifications when clients complete or update forms.
---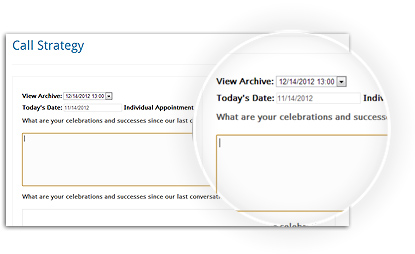 Documents
The Wheel of Life, Credit Card Authorization Document and Teleclass Etiquette are among the pre-uploaded documents in your Console system. Upload an unlimited amount of documents and organize them by "category" so your clients can easily access the reference material used before, during and after sessions. Clients can open, print or download documents as necessary..
---