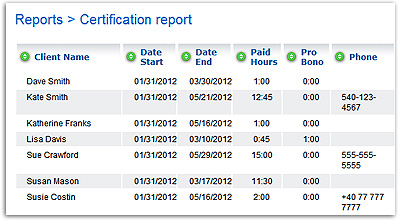 Certification Report
Track paid and pro-bono hours in an ICF formatted report. Review the report monthly or easily download it to send in with your certification material.
---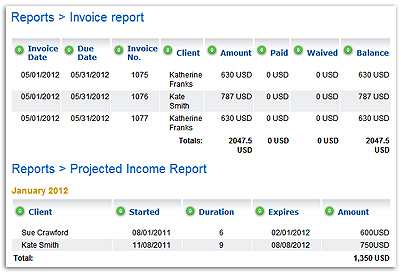 Invoice Report
Review invoices created, paid invoices and balances due. Easily manage your revenue each month to be sure no invoice is overlooked.
Projected Income
Analyze future revenue based on client agreements and minimize "roller coaster revenue" by knowing when client agreements are projected to end and when new agreements are beginning.
---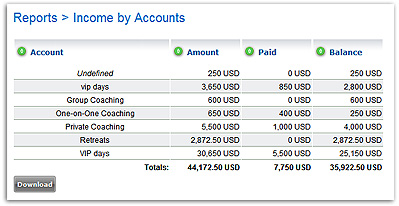 Income by Accounts
View revenue organized into categories based on products and services sold. Track efficiencies of different services offered to know where to place your marketing attention.
---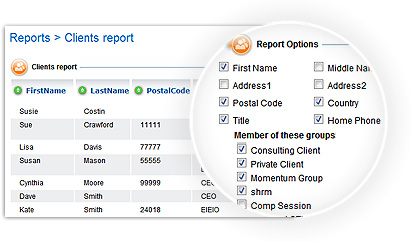 Clients Report & Groups Report
Filter client data and create customized reports. Manage groups easily by reviewing group sizes and contacts categorized by groups.
---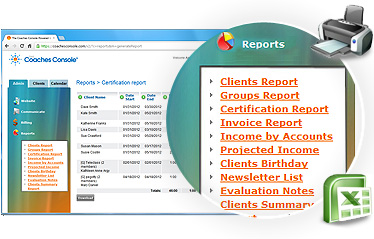 Other reports:

Clients Birthday – receive automated reminders 7 days prior to client and contact's birthdays.
Newsletter List – track and manage your contact list through opt-ins to your newsletter subscriptions.
Evaluation Notes – easily review feedback provided by clients through the Evaluation Form.

All reports can be printed or exported as Excel spreadsheets.
---