I have something REALLY exciting to share with you today:
This coming fall, we're releasing a new, upgraded version of the Coaches Console system!
This new version will make running your coaching business SO much smoother and easier, you'll hardly believe it… 
…my cofounder Kate sure didn't!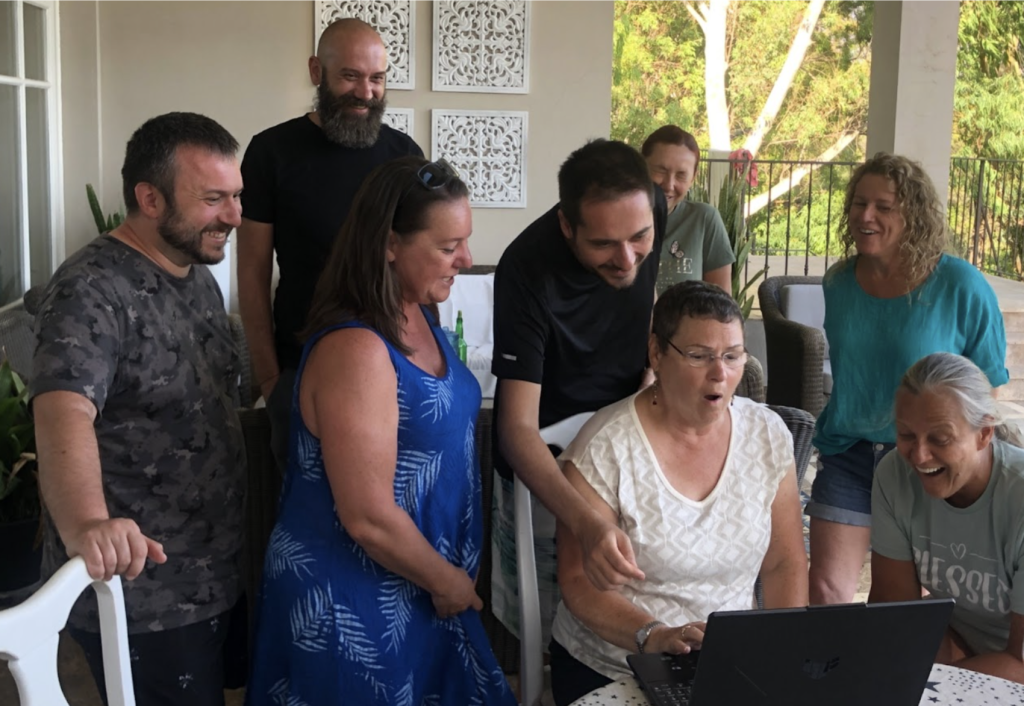 That photo was taken mere seconds into Kate's first experience with the upgraded Console. As you can see, her face gave away her excitement! 🙂
Now read on, because I want to share some more details about this new version with you.
Why change?
The Coaches Console system has already been honed and refined over 18 years to help tens of thousands of coaches easily run thriving, streamlined businesses.
So why change now?
The team and I are always looking for ways we can improve what we do for you, and software tech has evolved since we built the current version. With the tools we have now, we're able to clean up the interface and optimize how everything works… reducing how much you have to think about tech and admin while running your business.
That's why, based on the feedback we've received from our community (that's you!) and our own user experience interviews, we've found several opportunities to make the platform easier to use, more intuitive, tidier, faster, and MUCH more efficient.
And that's what we have in store for you in the upcoming software update. 🙂
Built for a Seamless Transition
Our top priority in creating this updated version of The Coaches Console has been keeping the platform easy to use.
This is how you support your clients, book appointments, receive payments, deliver services, and run your business. You can't afford any downtime… so this update is designed to have the absolute minimum learning curve.
And the upgrades we are introducing are tested and proven to make it easier to: 
Find the information and features when you need them (especially the ones coaches use most often!)

Focus on important tasks while you're doing them

And adopt new features that you haven't been using (if you want, of course!)
To give you an idea on how seamless this will be: we've kept the layout for the main menu items and all the same tools and options for each section. No features are being removed… but the ones that coaches access most often will be easier to find and presented more clearly.
Overall, we're making the platform even more user-friendly for you. So if you're "tech-phobic," you're going to love this.
AND – we're keeping everything the same for your clients, so they won't even know anything has changed.
What's Changing?
The main changes we're making to the platform include…
A cleaner, more intuitive design

A tidier, more useful dashboard with key updates, upcoming events, and more

Improved search tools for things like contacts, invoices, and content (with more organized search results, filtering, and grouping)

An updated client page where all the information, notes, scheduling, interactions, and to-dos are neatly displayed on one page (rather than scattered across multiple tabs)

Pop-up task windows to help you enter information more quickly, without losing data or having to change screens

Consistent placement and styling for information and actions, so you can always find the option you want

The ability to add multiple payment plans for one product.

Tools for sending text message appointment reminders to clients.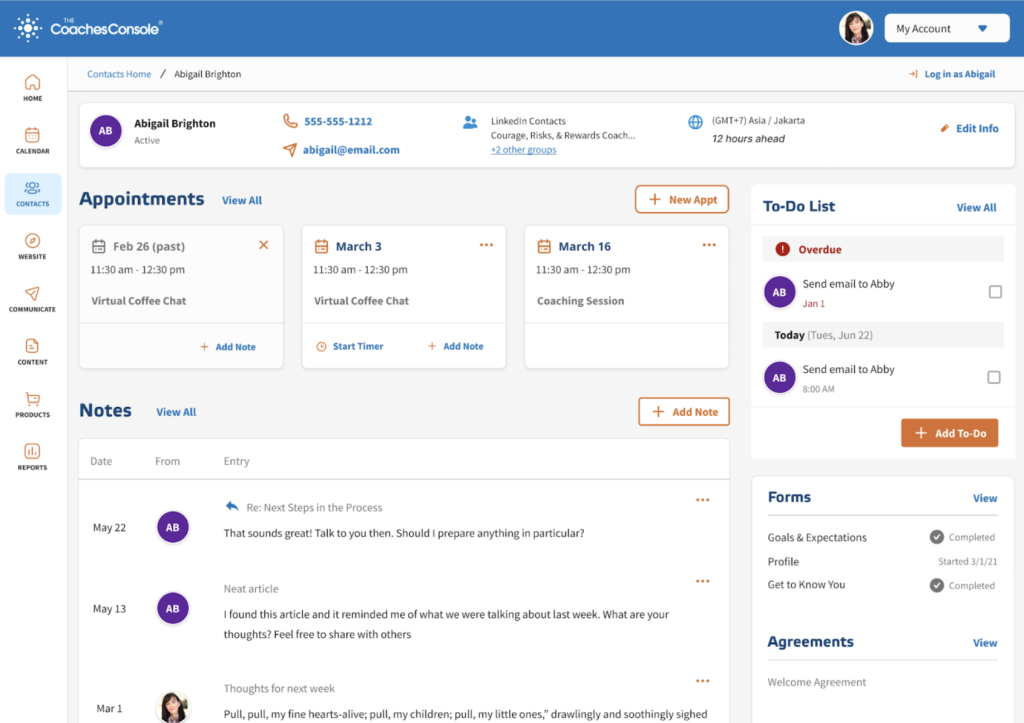 Enhancing Your Coaching Business This Fall
This updated version of the Coaches Console will be available starting on November 15, 2022. That day, a popup will appear on your dashboard showing you how exactly to update the platform… and the process will be fast and easy.
And YOU are in charge of when to make the switch. You'll have until January 31, 2023 to upgrade your Coaches Console platform once the new version is available. That way you choose your moment and update whenever is best for you. 🙂
Got questions? Reach out and we'll make sure you get answers! Just email support@coachesconsole.com and let us know what you need.
The team and I are dedicated to supporting you and your business… and I know once these updates are in place, you're going to love how much easier running your business becomes!