As you strive to build your coaching business, you may believe strategy is the most important component. Or, maybe you're thinking it's marketing or sales skills, or the coaching itself.
Well, I have news for you: the single most important component in building your business isn't strategy or marketing or sales or even coaching.
It's mindset.
Building your business is only 10% strategy and execution.

It's 10% "connectedness," or community.

And it's 80% mindset. That's right: a whopping 80%!
Now, you've probably begun to figure out that the journey of entrepreneurship is really a journey of personal development, because your business constantly requires you to learn and do new things. Which means it requires you to constantly step outside of your comfort zone. The journey of entrepreneurship is the path to you becoming the next greatest vision of the next grandest version you can have for yourself.
(Did you hear that? It was the sound of brakes squealing, of your momentum coming to a halt as you put your toe outside that imaginary circle marked Comfort Zone!)
But when you step outside of your comfort zone, you illuminate a gap between who you are right now and who you need to be in order for your desire, dream, or goal to become a reality.
It's here that you must become profoundly comfortable with the discomfort of being an entrepreneur.
And it's inside this space that you encounter thoughts, beliefs, and even other people who help shape you and remake you.
These things can be positive and inspiring (like mentors, processes, or information), or they can become voices in what I call The Itty Bitty Shitty Committee.
You may not have control over what the external voices say (I'm talking about your parents, your friends, your siblings, or those people on social media making judgments about you or your situation).
But you DO have control over those voices in your head … the ones that tell you there's just too much to do, or you have to be perfect, or you'll never be able to catch up with what you need to do.
---
These voices are internal blocks—what I call "villains."
They can become so loud and strong that they actually stop you from pursuing your goal as things get messy outside your Comfort Zone. On the flip side, they often sneak up on you and sabotage your efforts without you even realizing it's happening.
(You know this, right? Because you're a coach, and you hold the space for your clients as they step outside their comfort zones!)
Today, I want to offer you some coaching.
I want to share with you one of my favorite techniques for overcoming these internal blocks, so you can cope with them and continue moving forward on this beautiful, fascinating journey of entrepreneurship.

It's a three-step technique—and it's fun!
Step 1. Become Aware of the Habits, Patterns, Actions, and Thoughts That Sabotage Your Success.
Most people go around unconscious of the habits, patterns, actions, and thoughts that are actually sabotaging their success. They do notice, however, the effects of those habits, patterns, actions, and thoughts. They feel cranky, overwhelmed, hopeless, worthless, scared or stuck, or they procrastinate or do projects over and over.
Does any of this sound familiar? Maybe you have a tendency to second-guess yourself or to put yourself down.
Action Step:
Take a moment to think about what's going on in your own mind when you experience these feelings or situations. For example, as a recovering perfectionist, I used to believe I couldn't put anything out into the world if it wasn't perfect. Of course, this stopped me from making any forward progress (more on this in a minute). 
Step 2. Release the Feelings That Accompany Those Habits, Patterns, Actions and Thoughts.
Once you reveal the habits, patterns, actions, and thoughts that you experience when you step outside of your comfort zone, you can begin to release the emotions behind them.
For example, as a recovering perfectionist, I had to work through my feelings of inadequacy.
The key here is to be gentle and loving with yourself; don't blame yourself for the feelings.

Action Step:
Write down the feelings you're experiencing when you fall into success-sabotaging habits, patterns, actions and thoughts. Then, think about how these feelings are working to keep you safely inside your comfort zone. Finally, thank each one for trying to keep you safe, and then release it. Tell it to have a nice vacation … that you're going to take it from here.
Step 3. Replace Those Habits, Patterns, Actions, and Thoughts with New, Empowering Ones That Support Your Success.
Now that you've released the emotions that lead to success-sabotaging habits, patterns, actions, and thoughts, it's time to create new habits, patterns, actions, and thoughts that support your success as you continue to step outside your comfort zone again and again—and closer to your dream.
You can do this by reframing (one of my favorite coaching skills!).
For example, whereas I once believed everything had to be perfect, I now look at every new project or task as an opportunity to research.
And I'm not always striving for perfection. Before we even begin, I assign each component of the project with a letter grade I deem acceptable, both in terms of our goals for that project and in terms of putting it out to our community.
For example, during our last launch, we were trying something brand new. I knew it wouldn't necessarily earn an A grade, so I deemed a B- acceptable. If we could get that component out there at a B- level, we'd be successful at it.
In that same launch, we were re-doing all our free training content, and because it was training material, I wanted it to go out at an A level.
Then, as we went through the project and put out these components, if they didn't turn out like I wanted or corrected, we evaluated why, and then made the course corrections accordingly.

Action Step:
Before you enter into a new project, set your expectations for each component. Using a grading system (A, B, or C) or numerical scale (1-5), determine what's acceptable to you in terms of quality. This way, you know exactly what you're striving for (and if it's not perfection, that's okay!). Then, reframe the situations that bring up success-sabotaging emotions. Can you look at these situations in a different way? For each of the emotions you experience, write down a new, success-supporting perspective.
---
Now, let's have some fun!
Although I take business—my business and yours—very seriously, I like to deal with these success saboteurs in a fun, playful, cheeky way: in a way that removes the hold they can have over us.
That's why I came up with The Coaches Console Villains and Superpowers, 13 pairs of habits, personified.
By calling attention to the success-sabotaging patterns and personifying them, we can tame them and put them in their place—using the success-supporting superpowers.
We'll go into way more detail on this at Lifestyle LIVE! February 12-14 in Atlanta, but just to give you what you need to understand this concept, I wanted to share the Villain that hits me most often (like I said, I'm in recovery, but that doesn't mean she's not lurking around!).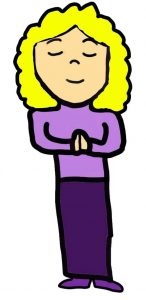 My biggest villain is Perfect Portia.
As you probably guessed, she's a perfectionist. She feels inadequate, makes countless revisions, and second-guesses her choices to the point that she's paralyzed (analysis paralysis, anyone?).
But for all her negative traits, Perfect Portia is just trying to keep me safe. She's trying to protect me from failure.
The good news is that there's a superhero to counteract Perfect Portia.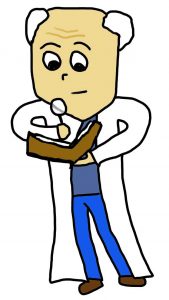 Introducing Dr. Richard Research, who knows that every step along the entrepreneurial path is just that: another piece of research. Dr. Richard Research creates a plan, takes action, reviews the results, and makes the quick course corrections necessary to maintain forward momentum.
Don't tell anyone, but I have kind of a crush on Dr. Richard Research. 😉
There are 12 other Villains that might be showing up in your business (and your life). And fortunately, there's a Superhero to combat each one.
When you can consciously use Superheroes to conquer the Villains, you can begin to master your mindset—and because it's the most important element in building your business, you can consciously make different choices, and achieve your vision for success.
As always, I'd love to hear from you on this. I haven't yet revealed the secret identities of all of the Villains and Superheroes … but I'd love to hear how success-sabotaging habits show up in YOUR business.
For example, do you tend to procrastinate? Feel overwhelmed? Second-guess yourself? Give your services for free? Beat yourself up, emotionally? Compare yourself to others?
Comment below, and feel the freedom when you name the unspoken … let's have some fun with this! I'll respond personally!